Could you be a Director of Grannell Community Energy?
We are looking for directors to join us from a range of backgrounds, experiences and skill sets. Would you be willing to give some time and commitment? Do you share our passion for renewables and community projects?
Our mission is to help mid-Wales develop a clean energy future, mitigate climate change by installing renewable energy generation, and to do this in a fair way by spreading the ownership and benefits across the community rather than concentrated in the hands of the few. Last year saw the installation locally of a 500Kw wind turbine, now generating clean, green, community-owned energy, with all surplus going to support our local community.
We meet up three or four times a year but hold regular evening meetings via conference call. In addition, directors may informally take a watching brief of areas in which they have expertise.
See a list of current directors, read more on the turbine here and the previous share offer document here.
We are particularly keen to recruit people with community, renewable energy, legal, financial, business & marketing experience, but other roles are also available.
You can also send your CV, including the names of two referees, and brief explanation of your interest to the Directors at info@grannellcommunity.coop.org
Or by post to Grannell Community Energy, Pandy, Cribyn, Lampeter SA48 7QH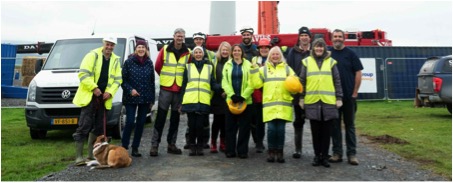 Volunteer Director vacancies – join us!