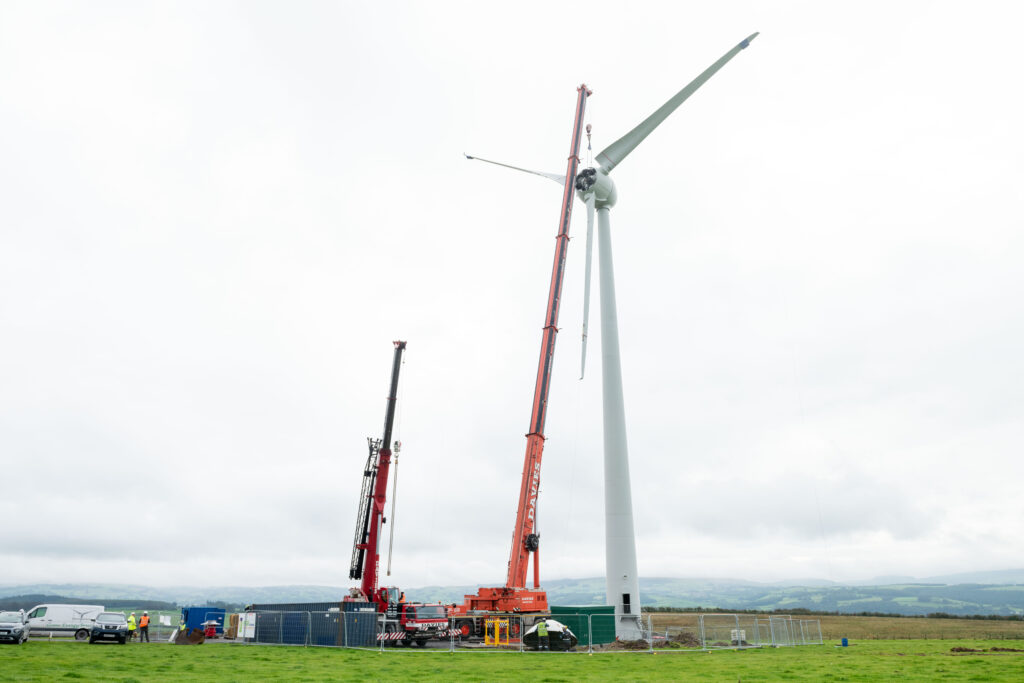 Our turbine is a refurbished Enercon E48 from Holland.
It stands on a 50m tower with a 48-metre blade span.
It is the largest community-owned wind turbine in Ceredigion.
It stands on top of a windy hill at Ffrwd Farm, Llanwnnen in Ceredigion.
It has a capacity of 800kW, but will operate at a capacity of 500kW  in order to comply with the grid and Feed in Tariff requirements.
Estimated annual generation is 1,743,000 kWh of electricity – enough to supply the equivalent of around 450 typical homes, or half of Llanfihangel Ystrad.
It will save over 600 tonnes CO2 per year, so our community is contributing to the UK's net zero future.
It connects to the grid via an on-site substation and underground cable at 11,000 volts.
The turbine weighs  approx. 100 tonnes.
400 tonnes of concrete & steel were used to make the base.
The components were brought to site from Holland on three ferries and seven HGVs.
It took five days to erect the turbine after the site had been prepared.
The expected life of the turbine is 20 years.
It is one of the last wind turbines in the UK to receive support from the government's Feed-in Tariff scheme.
It is co-owned by the 129 investors in Grannell Community Energy.
The community benefit fund will distribute at least £5,000 a year to support local good causes.
The electricity is being sold to Bristol Energy through a Power Purchase Agreement.
Turbine facts and figures