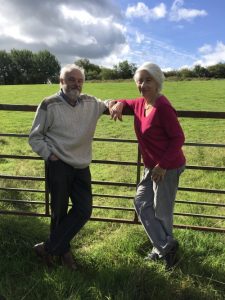 Grannell Community Energy (Grannell) is delighted to announce that it has raised £156,873 of the £700,000 it needs to raise to build a 500kW wind turbine near Lampeter.
A large sum of this money has been invested by the Bodsworth family based in Llangeitho near Tregaron. In total, the family have invested £40,000 of their own money into the project, which is one of only two community-led wind energy projects available in Wales and the UK.
Mr David Bodsworth, alongside his wife and mother, moved to the area in 2011 from Berkshire, and after firstly buying a local woodland and then a farm in the same area later on in the same year, they were looking at other ways of contributing to their local community.
The 60-year-old retiree explains: "After a long career in the oil and petrochemical industry and seeing the need for alternative energy sources, I was keen to invest and be part of the renewable energy sector. As a family, we also wanted to be part of the local community and contribute whichever way we could to local projects, and this project with Grannell seemed to be the perfect fit and balance for our needs."
He adds: "As oil becomes scarcer, finding alternative oil sources inevitably has more of an environmental impact, this means the time has come to look at and accept the need for sustainable sources of energy if we are to keep the lights on in future! I believe we are a very wasteful society and we really need to change the way we live and behave. I believe that using and investing in green energy is the way forward."
To date, Grannell has raised £156,873 of the £700,000 it needs to fund the initial build of the 50-metre-high wind turbine near Lampeter in mid Wales. If the necessary funds are raised by 14 December this year, Grannell hope to start the initial build of the wind turbine in 2019, with completion aimed for December 2019.
Leila Sharland, Chair of Grannell Community Energy said: "We are very grateful to the Bodsworth family for their investment in the project. Their contribution has made a massive difference to our target, but as always we need more people to buy shares to really help us make a difference and reach our target, so please get in touch if you want to be part of a unique renewable project."
Grannell has secured planning consent for the wind turbine to be built on farm land near Cribyn, Lampeter. The wind turbine will stand on a 50-metre tower with a 48-metre blade span, and it is expected to generate about 1700 MWh of electricity per year, enough for approximately 446 homes.
If you would like to buy shares in the project please email info@grannellcoop.org.uk, call 01743 835242 or visit the website www.grannellcoop.org.uk.
Grannell Community Energy is supported by Sharenergy, based in Shrewsbury, who have facilitated over 30 community energy projects throughout the UK. Their extensive experience is being brought to bear on this project through the Renew Wales programme.
In addition, the Welsh Government is supporting the project through its new Energy Service, which supports the public and community energy sectors in Wales to develop energy efficiency and renewable energy projects.
LOCAL FAMILY INVESTS £40K IN COMMUNITY-LED ENERGY PROJECT NEAR LAMPETER